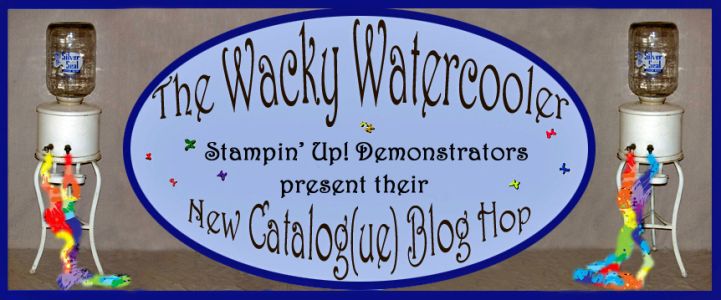 Welcome to the very first
Wacky Watercooler New Catalog(ue) Blog Hop.
We are a creative group of Independent Stampin' Up Demonstrators who hang out together on our demonstrator website in the Wacky Women's Watercooler thread. Today we are hopping around blogville and sharing some projects using the new products from the 2013-14 Annual Catalogue.. If you're following the blog hop from the beginning, you are coming here from
Jean
's blog and then heading over to
Heidi'
s. However, it doesn't matter where you start as the blog hop rotates in a circular manner. If you get lost along the way, you can always click the HOME button below and click from there.
Myself, I am a Stampin' Up! Demonstrator from Winnipeg, Manitoba, Canada. If you are local, I'd love to meet you at one of my events, which you can learn more about on this blog,
my website
or my
Facebook page
. You could also email me and request to be put on my email lists.
Here are my projects today, which I am excited to share with you.
First up.... using the new Stampin' Up! Simply Pressed Clay, I have made a magnet. It was really easy to make. I simply rolled out the clay and stamped it with Pleasant Poppies using stayz on ink and when it dried a little bit, I used Strawberry Slush and Gumball Green markers to color the poppies. I then sponged the whole thing with Crumb Cake ink. I made the indent with the Circle Framlits, though you could use a cookie cutter also. I'm loving this new product and all the neat projects we can use it for.
Simply Pressed Clay Magnet
Here it is on my fridge with all my other magnets.




My second project uses the beautiful Swallowtail stamp and the Label Love stamp and coordinating punch. I also used the new 3/8" Ruffle Stretch Trim ribbon for this card. The color is the new in-color called Coastal Cabana which I absolutely love.
Swallowtail Birthday
I use some Dazzling Details to give the butterfly some sparkle. I simply dabbed it on then spread it around with my finger.
Because the butterfly is so big, it does not fit on an average sized card front. For this card, I decided to have the butterfly wrap around to the back of the card also.
Finally, this card here was made at this month's Demo Meeting. It was my first time using the Bleaching Technique which is what caused the halo-like effect around the Canadian Goose from the Wetlands stamp set.
Bleached Canadian Goose
HERE
are some more samples I made using the new products from the 2013-14 Annual Catalogue.
Thank you so much for hopping on over to my blog! I've enjoyed having you here. I hope you'll come again soon. Please do leave me a comment to let me know you were here. If you have a blog, I'll return a visit to you shortly.
Click the buttons below to navigate through the blog hop.